Additional Information
Schools
Additional Information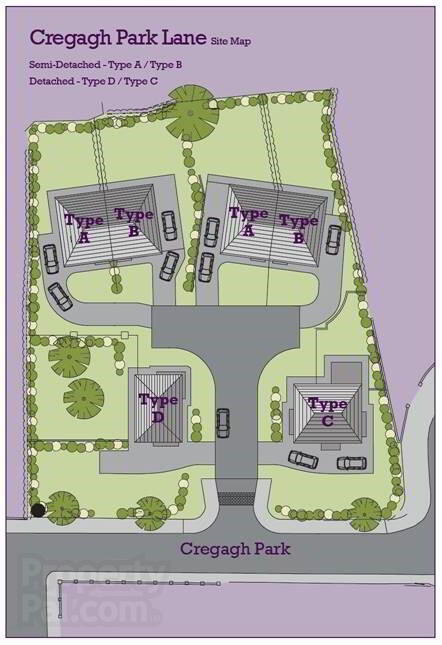 Features
A Select Development Of 6 Contemporary Family Homes
Situated Just Off The Cregagh And Upper Knockbreda Road
Perfectly Designed For Modern, Family Living
Luxury, Full Turnkey Finish
NHBC 10 Year Warranty
Site 1 - 4 Bedroom Detached C. 1560 Sq FT (Type C)
Site 2 - 3 Bedroom Detached C. 1270 Sq FT (Type D)
Site 3 - 4 Bedroom Semi-Detached C.1290 Sq FT (Type A)
Site 4 - 4 Bedroom Semi-Detached C.1290 Sq FT (Type B)
Site 5 - 4 Bedroom Semi-Detached C.1290 Sq FT (Type A)
Site 6 - 4 Bedroom Semi-Detached C.1290 Sq FT (Type B)
Contact Dougan Residential 02890308855 For Further Information
Additional Information
Situated just off the Cregagh and Upper Knockbreda Road, this beautiful new development of homes fit the perfect balance of city life and quiet rural living.
These homes are ideal for both families and commuters, located in a peaceful area just outside Belfast. Surrounded by green areas, including Cregagh Park, Downshire Park and Cregagh Glen, there is no shortage of scenic walks to enjoy. By car, these homes are just 15 minutes from Belfast City Centre - recently voted by Lonely Planet as the best city to visit.
A hive of life and diversity, there is no shortage of things to do in Belfast, no matter what age you are. Nearby you'll find a wide selection of local  amenities: schools, doctors, libraries, shops, churches - and even a local ice cream shop! You're also easily accessible to public transport with buses running regularly along the Cregagh Road. Cregagh Park Lane offers a selection of stunning homes: four semi-detached and two detached. All homes come with spacious kitchens and dining rooms, along with modern lounges. There are a selection of both 3 bedroom and 4 bedroom homes on offer.
Spacious, modern, beautiful…
Welcome to Cregagh Park Lane.
Schools
Back to top