Additional Information
Share This Property
Personal Notes
Similar Properties
Additional Information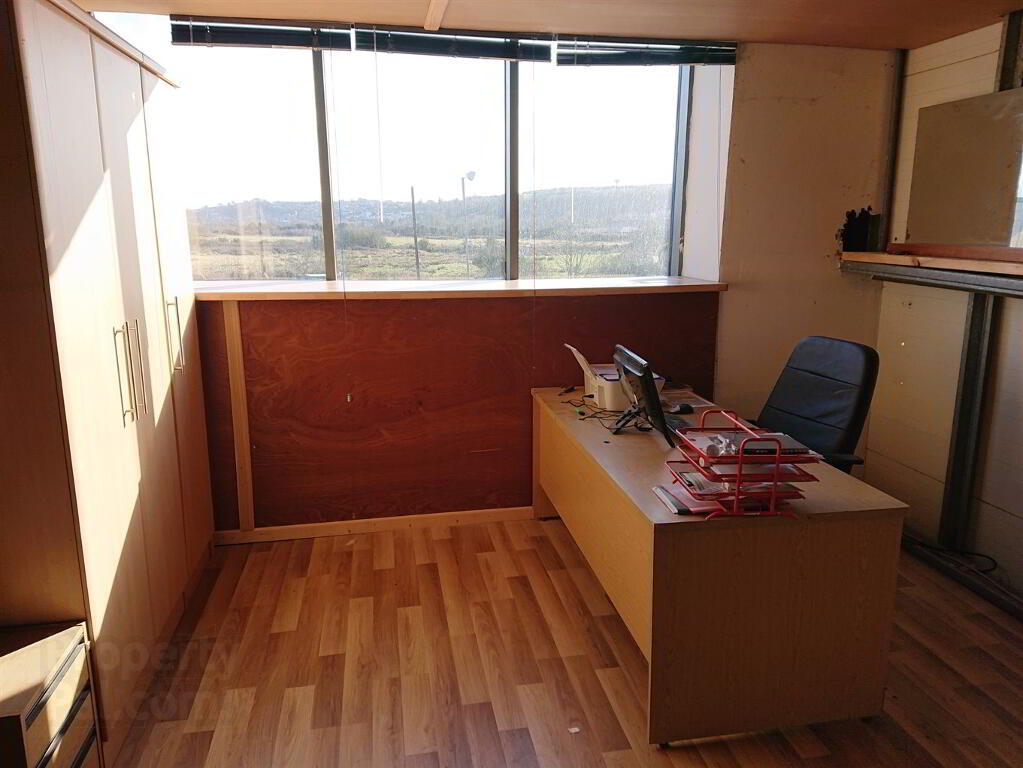 Additional Information
Superb modern commercial unit for sale in Millennium Park Youghal.
This unit comes with a loading roll up shutter door in addition to the pedestrian entrance which is fitted with its own internal security shutter.
Much work has been done to the unit which is subdivided into front office space / reception area, ground floor work area, WC and a large mezzanine built for more work or storage space with a separate office.
3 Phase power is available and a glass front facade allows plenty of natural light into the unit.
The unit appears in overall excellent condition and is ready to move into.
All measurements are in meters approximate
Ground floor (including office & WC) - 7.44 X 10.68 - 79.49 sq mts approximately
Mezzanine Level - 4.63 X 7.44 and 6.04 X 4.20 - 60.12 sq mts approximately
Total Area approximately 139.61 sq mts
The unit has ample parking outside the premises and access from the main N25 route is less than a minute's drive.
These particulars are issued by Hyde Property, on the condition that any offers respecting the properties mentioned are conducted through them. Every care is taken in preparing particulars, but the firm does not hold themselves responsible for any inaccuracy in the particulars and terms of the properties referred to, or for any expense that may be incurred in visiting same should it prove unsuitable or to have been let, sold or withdrawn. Viewers and purchasers should verify all given details are correct or are to their own satisfaction prior to purchasing. Should there be any differences between these details and the contracts for sale, it is the latter which shall apply. Purchasers should not sign contracts until they have fully satisfied all details relevant to the property for themselves. Should the above not be suitable, please let us know your exact requirements. Applicants visit and view the properties at their own risk and the company will not indemnify.
Share this property
Personal Notes
Add a personal note about this property
About Personal Notes
You can add your own personal notes about this property.
You can view all your notes by going to My PropertyPal.com.
You can remove this note at any time.
Notes can only be seen by you and any pals you have added, they cannot be viewed by the vendor or estate agent.
Similar Properties
Property Statistics
Total Views
(since advertised)
438
Listing Views
| Date | Views | Unique Views | Featured | Published | Bumped |
| --- | --- | --- | --- | --- | --- |
| 16th May | 2 | 2 | No | Yes | No |
| 17th May | 5 | 5 | No | Yes | No |
| 18th May | 1 | 1 | No | Yes | No |
| 19th May | 2 | 2 | No | Yes | No |
| 20th May | 0 | 0 | No | Yes | No |
| 21st May | 0 | 0 | No | Yes | No |
| 22nd May | 0 | 0 | No | Yes | No |
| 23rd May | 2 | 2 | No | Yes | No |
| 24th May | 1 | 1 | No | Yes | No |
| 25th May | 2 | 2 | No | Yes | No |
| 26th May | 2 | 2 | No | Yes | No |
| 27th May | 0 | 0 | No | Yes | No |
| 28th May | 1 | 1 | No | Yes | No |
| 29th May | 1 | 1 | No | Yes | No |
| 30th May | 0 | 0 | No | Yes | No |
| 31st May | 1 | 1 | No | Yes | No |
| 1st Jun | 2 | 2 | No | Yes | No |
| 2nd Jun | 2 | 2 | No | Yes | No |
| 3rd Jun | 2 | 2 | No | Yes | No |
| 4th Jun | 3 | 3 | No | Yes | No |
| 5th Jun | 0 | 0 | No | Yes | No |
| 6th Jun | 1 | 1 | No | Yes | No |
| 7th Jun | 2 | 2 | No | Yes | No |
| 8th Jun | 1 | 1 | No | Yes | No |
| 9th Jun | 2 | 2 | No | Yes | No |
| 10th Jun | 1 | 1 | No | Yes | No |
| 11th Jun | 4 | 4 | No | Yes | No |
| 12th Jun | 0 | 0 | No | Yes | No |
| 13th Jun | 0 | 0 | No | Yes | No |
| 14th Jun | 2 | 2 | No | Yes | No |
Spotted a Problem? Even the best agents make mistakes, help us to maintain accurate property information on our listings. Report a problem »
Back to top